Dongguan Vsunny Machinery Co., Ltd, established in 2012, specializes in the research, development, design and manufacturing of an extensive line of powder grinding machines. Located in Changping Town, east of Dongguan, Guangdong, we have an advantage in being able to guarantee shipping on time, every time. Occupying a total of 15,000 square meters, our main products include ultrafine powder vertical roller mills, ultrafine powder ring rolling mils, vertical coarse powder grinding mills, air classifiers and continuous coating machine. Equipment produced by us is then commonly used in the grinding of ultrafine powders of nonmetallic ores, including calcite, marble mineral, limestone mineral, calcite mineral, talc, dolomite, wollastonite, potash feldspar, pyrophillite, calcium fluoride, zeolite, quartz, gypsum, mica, kaolin, bentonite, bauxite, illite, vermiculite, sepiolite, ceramics, calmogastrin, magnesium hydrate, furnace slag and steel slag.
Vsunny offers full solutions for the grinding of ultrafine powder for different powder manufacturers, including crushing, transportation, grinding, classifying, design, manufacturing, installation, debugging and training. We also provide complete after-sales services and technical support to our customers, as well as conduct the entire production process using automation control. The more stable the production process, the more environmentally friendly production, and the production environment is, and the higher the product quality.
In order to better serve our customers, we have established two fine powder grinding production lines in Hezhou, Guangxi, both of which are equipped with a secondary classifier and third classifier, and an continuous coating machine. We have also built a modernized, multi-functional research and development center for powder testing, which is home to 6 R&D powder and auxiliary personnel, including two employees with doctorate degrees in macromolecules and organic chemistry respectively, proving our expertise to the powder grinding industry. The research and development center is equipped with a large number of first class raw material and application property testing equipments, including the English Melvin 2000 and 3000 laser diffraction particle size analyzer, American ThermoFisher ICE3500 graphite oven – flame integrated atomic absorption spectrophotometer, American Quantachrome Nitrogen absorption meter, Japanese desk type color spectrophotometer, ore composition analyzer, powder comprehensive characteristic tester, contact angle meter, planetary ball mill, extrusion machine, twin-screw granulation machine, electronic mechanical property test machine, torque rheometer and high temperature aging tester. Working together, all of these equipments can carry out comprehensive tests on the physical and chemical properties of various powder types, as well as the performance of the powders when used in different applications, including plastics, rubber, paint and printing ink.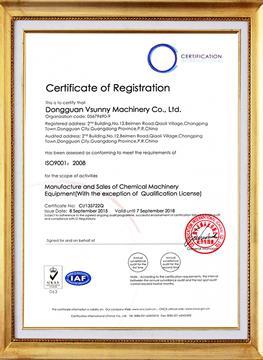 After persistent technical research, we have earned more than 10 patents, and been awarded the title of "Outstanding Enterprise Featuring High and New Technology". Our products for ultrafine vertical roller mill have been recognized as a "High and New Technology Product", and we earned ISO9001:2008 International Quality Management System certification in September of 2015, as well as SGS qualification in March of 2016.